Zion National Park in Utah isn't too far away from the Grand Canyon, but it is being carved by a different river – the Virgin River. It's not a very powerful river, but it sure is when it rains and there are flash floods!
Sophie and Sadie are in a part of the park called the Subway – because the shape that the river has carved out of the rock as it goes around the corner makes it look like a subway car could go through it! Luckily today it's sunny and Sophie and Sadie can play in one of the puddles left behind.
Click on the image below, or click here, to open the coloring page, then download, print, and start coloring!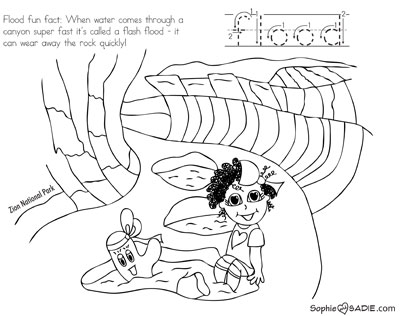 Tags: coloring page, flash floods, hiking, National Parks, traveling, Utah, Zion National Park