Desert, Dessert – there are a lot of different kinds of both deserts (that are usually places that don't get much rain) and desserts (that are usually sugary and yummy to eat). Two deserts come together in Joshua Tree National Park in Southern California – the Mojave Desert and the Colorado Desert.
Sophie and Sadie are in the Mojave Desert part where the fun looking Joshua Trees grow and there are mountains of huge rocks to climb! Better to not get too close to the Joshua Trees – they are really sharp!
Click on the image below, or click here, to open the coloring page, then download, print, and start coloring!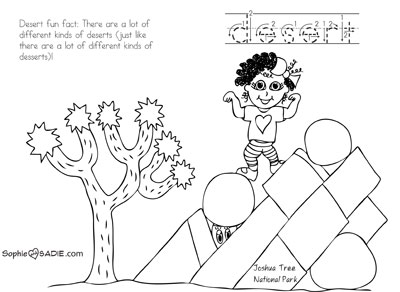 Tags: california, Colorado desert, coloring page, desert, friends, joshua tree, mojave desert, National Parks, southern california, traveling