We're almost done with our National Parks tour – stopping in Badlands National Park before the snow starts. Sophie and Sadie found the cabin that Theodore Roosevelt, the 26th president of the United States and the president who started the National Parks system, lived in when he spent time in North Dakota.
Most of North Dakota is a prairie, or meadow, full of long grasses that smell really wonderful. And there are places where the prairie suddenly ends and the formations of sedimentary rock layers rise out of the earth with layers of different colors.
Click on the image below, or click here, to open the coloring page, then download, print, and start coloring!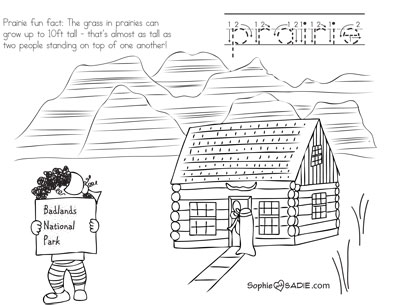 Tags: Badlands, coloring page, log cabin, National Parks, North Dakota, Theodore Roosevelt, traveling